NEws
[14/07] At this link you can find an album on google drive where everyone can see/upload pictures
[13/07] The best paper announcement will be followed by an executive committee announcement + IPMU2024 presentation
[08/07] The e-book of abstract is now available online (check the Proceedings page)
[06/07] Keynote talks will be streamed on the YouTube channel: http://s.unimib.it/ipmu2022
---
COVID-19 RESTRICTIONS
The conference will be in presence. Authors coming from countries with severe international travel restrictions can ask to present their work remotely.
---
Rough Sets Turn 40: Uncertainty Management Perspective Anniversary Panel
We will celebrate 40 years since the seminal paper "Rough sets" by Zdzislaw Pawlak appeared in 1982 on Int. J. Parallel Programming.
---
The 19th International Conference on Information Processing and Management of Uncertainty in Knowledge-Based Systems / July 11-15, 2022 – Milan, Italy
The IPMU Conference is organized every two years since 1986 with the focus of bringing together scientists working on methods for the management of uncertainty and aggregation. It also provides a forum for the exchange of ideas between theoreticians and practitioners in these and related areas.
The 2022 edition of IPMU will take place at the University of Milano-Bicocca, located in the North-East of Milan, in a renewed district that offers a theatre, an exhibition space, and many restaurants and pubs. With the main buildings located close to the Greco Pirelli Railway Station and the Metro Line 5 (M5), the University of Milano-Bicocca benefits from excellent access routes.
Milan is one of the most dynamic cities in the world, and full of stories to tell. A city where you feel safe wandering around day or night, where you'll find hotels, restaurants, and nightlife to suit every taste, budget, and requirement.
---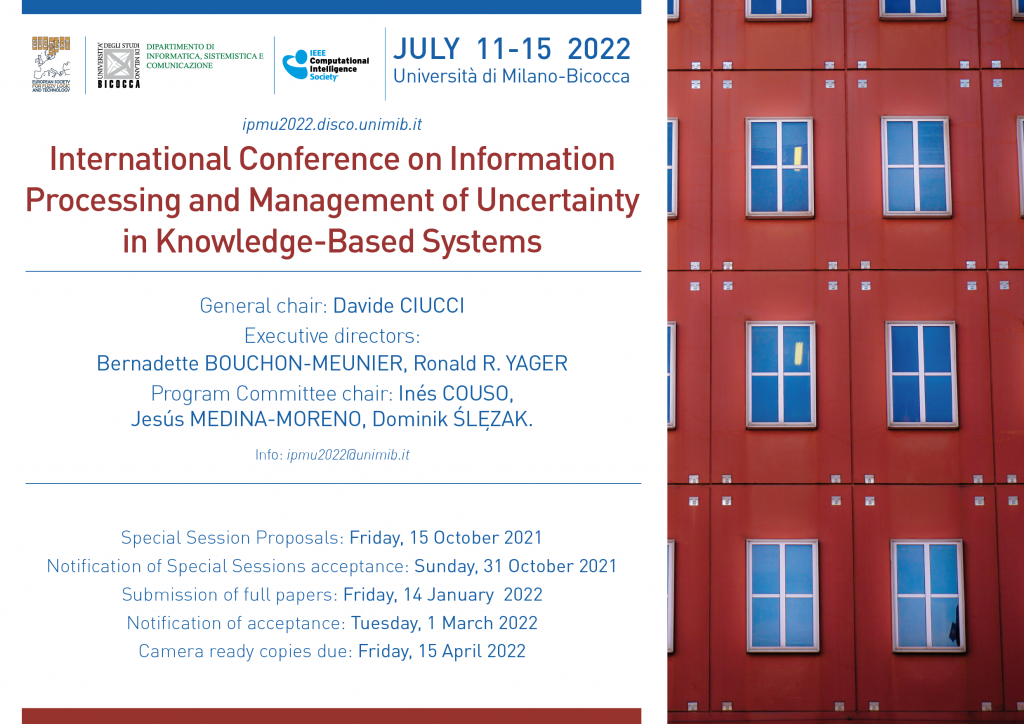 Download the flyer of the IPMU 2022 Conference